About the Book – Write to Influence
Bang: Game on! You have 30 seconds to grab the reader's attention – then fight to retain it. Key to success? Written communication skills.  Infuse your products with clarity, focus, direction, and purpose.
Powerful writing begins with crafting a hard-hitting message, then refined at the sentence-level to make each word count and every second of the reader's time play to your advantage.
Through "Write to Influence!" learn to:
Structure and organize your message for maximum impact
Identify, quantify, and showcase hard-hitting facts
Compose products – crisp, concise, and compelling
Leverage words to your advantage – Carla shows how to improve written communication skills in her book and workshops!
"Write to Influence! is a book to study diligently and reread regularly. It should be your go-to guide for creating a well-crafted, hard-hitting, influential message that tips the scale in your favor. Powerful, influential writing is your key to success. Happily, Carla D. Bass makes it easy to acquire the skills to write accurate, clear, concise and focused copy that drives your readers to deliver your most wanted response every single time." Lorraine Cobcroft, Reader's Favorite Book Review
"This helped me pass my college classes! An amazing source to improve your writing and earn higher grades. Carla does an excellent job … MUCH better than a standard textbook!"
"Write to Influence! provides tools and strategies to make each word count and every second of the reader's time play to your advantage. From banishing bureaucratic blather in the workplace to crafting input for your own performance appraisal or college application essay, Carla covers it all."
"Widely acclaimed: This is NOT a textbook. It's easy to read, fun and effective!"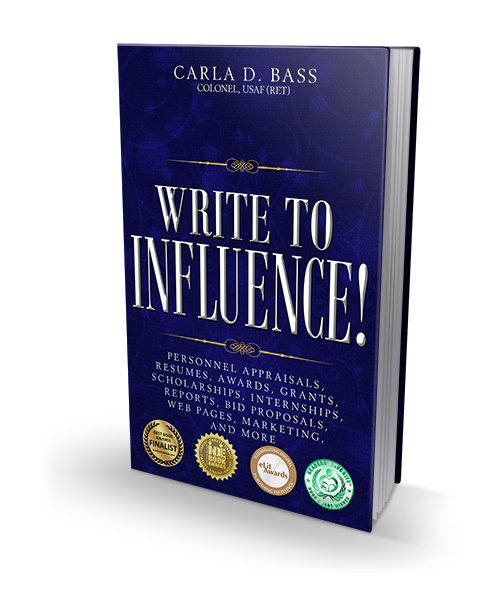 Tailored for individual, corporate, academic, government, and military organizations.
"Write to Influence! will rejuvenate the lost art of clear, concise, professional writing. Moreover, corporate CEOs will rejoice at no longer being encumbered by reports difficult to read and frustrating to unravel!"
Judith A. Sprieser, Non-Executive Director Allstate Corporation, InterContinental Exchange Inc., and Reckitt Benckiser plc.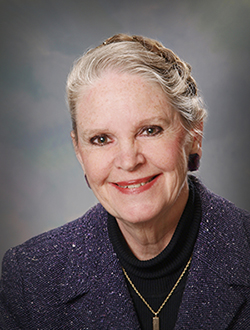 Carla D. Bass, Colonel, USAF (Ret), brings decades of experience writing powerfully for leaders at the highest levels of the U.S. military and government to a variety of highly acclaimed workshops that can be tailored to your needs.
Customized presentations from one hour to two days

For professionals in private business, corporate, government, and nonprofit organizations; for students in high school through graduate school, as well!
Throughout her career, Carla: 
Developed unique writing techniques and strategies

Taught powerful writing to thousands of professionals

Wrote products for generals, ambassadors, Congress, and the Executive Branch

Authored and published the multiple award-winning book,

Write to Influence!   
"Love her style! Great book! A must have for anyone that needs help expressing themselves without all the mush!! I've recommended it to several young professionals. Wish I'd had it early in my career!"  Sherry McMurry, Amazon Customer
"This book is fantastic! It is spot-on for persuasive writing. This should be the textbook for a class required of all incoming college freshman, and a high school class, a class for all military officers, and a refresher at most companies. I don't know of anyone who would not benefit from this book!"  Dan Cornford, Reviewer on NetGalley
Learn about Carla's customized one hour to two full day workshops: interactive, fun, and effective!