Improve Writing Skills!
Improve writing skills with Carla's unique tools and strategies. Her acclaimed workshops and webinars are fun, engaging, interactive, and effective! This is not your classic grammar class!
She punctuates teaching points presenting examples in the format BEFORE, AFTER, and ANALYSIS to demonstrate and explain as she transforms bureaucratic blather to clear, concise text. Carla then plays "ping pong," challenging you to find and correct flaws in examples she presents.
What inspires her? "I love watching people 'get it' … that 'ah-ha' moment. So many attendees comment, 'Wish I had learned this years ago!' That's the wind behind my sails."
Bring your sense of humor … Carla does! In her instruction, she refers to Mary Poppins, Goldilocks, hard-boiled eggs, scavenger hunts, poker, and garden gates. These make perfect sense in context!
Also available — individual, customized coaching programs that deliver the same, outstanding results.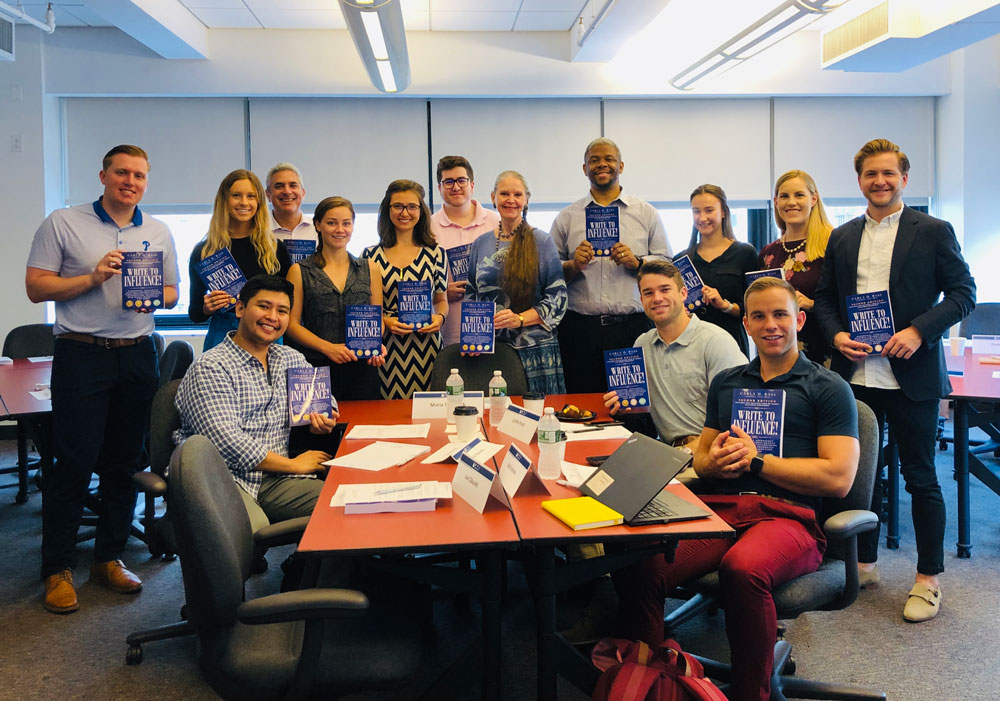 "Write to Influence! training led to increased professional advancement opportunities for countless numbers of service members."
– Lt Gen Dana T. Atkins, USAF (Ret), President and CEO, Military Officers of America Association (MOAA)
"Thank you, Carla Bass for your eye-opening Powerful Writing for Professionals workshop last night: I learned more there than at any writing course thus far!"
–Seasoned Professional, Government Contracting Master's Program, George Washington University
"Carla did an amazing job engaging with our students on her excellent tips to improve writing. Her workshop was positive, fun, stimulating, and engaging. She presented the material as an intellectual game — and students rose to the challenge! Carla and her workshop have our highest endorsement."
–Jo A. S. Thoburn, President & CEO, Fairfax Christian School