Write to Influence! Business Workshops
Powerful writing is the lifeblood of successful organizations!
Time is money. Leverage powerful, business writing skills to:
Attract and retain talented employees
Compete for lucrative contracts
Defend your castle … Make your case to avoid budget cuts
Expand your empire … lobby for additional resources … Make that case too!
Carla's lively, engaging and interactive workshops for business audiences consistently earn rave reviews. All workshops can be customized from one hour to two days.
Banish bureaucratic blather: Book a workshop!
"We purchased 20 copies of Write to Influence! and hired Carla to teach a one-hour workshop. It was educational and engaging; her writing exercises — applicable and challenging. The future belongs to communicators … Carla Bass' workshop and Write to Influence! make a difference!"  Jim Bellas, CEO, Diplomatic Language Services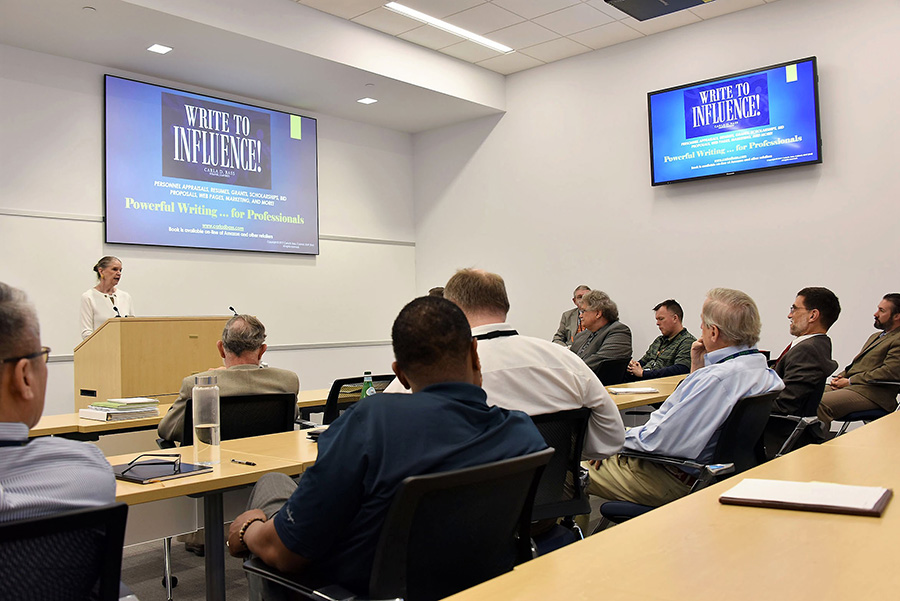 Write to Influence!
Ace Your Performance Review
Writing about yourself is a chore that many abhor:
1) It seems like bragging
2) You must recall, "What did I do last year?"
3) You have limited space to make your case.
Learn to identify and then make your accomplishments Pop!
Write to Influence!
Secure Those Grants
Sway the reader to your point of view. Present a case that is well organized, powerful, and compelling. Master this skill to open the door when opportunity knocks!
Write to Influence!
Ace that Resume

You may be the best-qualified candidate but if the competition is better at telling a story, you lose. Learn to make each word and every second of the reader's time play to your advantage in this all-important document.
Powerful Writing for Professionals
Private business, NGOs, corporations working with the government, and the government can all benefit from this cut-to-the-chase, write clearly workshop to develop critical business writing skills.
Put your Writing on a Diet: Word Sculpting Fundamentals
Grabbing and retaining the reader's attention begins with the first sentence. Workshop can be tailored for audiences as young as junior high school. Also for fiction writers!
Demystify Commas and Other Grammar Nits
One of her most highly complimented features, Carla intersperses "wee bits of grammar" throughout the workshop in fun, easily digested doses. Complex made easy. Can be added to any workshop.
Banish bureaucratic blather: Book a workshop now!